There is a wide range of options to think about when selling items online these days. Business owners have the option of creating their own online store, which provides access to a payment processor, subscription and membership opportunities, and much more.
There are two names that seem to step out above the others in today's digital sales world. Shopify is the go-to platform for businesses looking to create their own website from the ground up. However, if you have to get started selling as soon as possible, you may open an Amazon Seller account.
When it comes to online shopping, Shopify and Amazon each have quite distinct things to offer, but we would suggest Shopify as a good option overall. It's one of the greatest eCommerce systems available, and it's appropriate for small businesses to large corporations.
About Amazon – Quick Introduction
Amazon is another popular platform that is quite easy to use, however listing a product and uploading photographs can take some time due to the numerous 'back-end' areas that must be completed.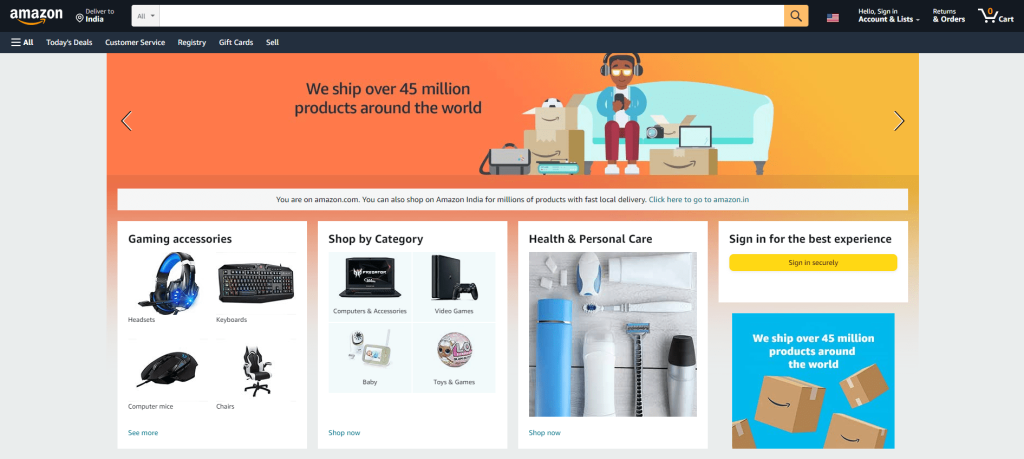 Selling on Amazon is similar to having a market stall. Customers would go to the Amazon website and look for the things they require, just like they would on eBay. Your products will be displayed alongside those of other vendors. It's an excellent place for beginners to begin, especially those with no past technical knowledge
About Shopify – Quick Introduction
Shopify is a popular eCommerce platform that enables new business owners to launch online stores with little or no technical knowledge. The platform allows you to create websites for your business, with the option of choosing your own domain and customizing the front-end design.
You can achieve originality in this method, which will help you stand out from the rest and promote your products. In 2019, online commerce enterprises built on Shopify grew at a rate of 50 percent, compared to the industry average of 21 percent.
Amazon vs Shopify — Major Differences (2023)
Both Amazon and Shopify offer their advantages, but how do you decide which one to use?
You get a comprehensive platform with Shopify to develop your eCommerce website, complete with templates to make your product listings seem wonderful. Depending on the Shopify subscription you choose, you will have access to everything from SEO tools to tools that let you connect your business to other sales channels, such as Amazon, on the other side, does not need you to create anything from the ground up.
On the other hand, Amazon does not require you to build anything at all from the ground up. Rather, you trade through a pre-existing warehouse, where you will be joined by other vendors who are similar to you. Selling on Shopify is similar to renting a building and offering your own products in the real world while selling on Amazon is similar to having a stand among thousands of other merchants in a very competitive atmosphere.
Ease of use – Amazon vs Shopify
Both Shopify and Amazon are built with the goal of making your life as simple as possible. With both, you will find some useful tools and simplified setups. In their own ways, they are both simple to use. Since you only have to set up and start selling on Amazon, it requires less effort than Shopify. However, Shopify makes creating your own online marketplace a breeze.
Amazon: Ease Of Use
All you have to do with Amazon is set up an account, go through the set-up process, and you are all set to begin selling. Once you have registered, you must post your stuff, sell them, send them, and wait to be paid. This is all basic, and Amazon offers tools to make it as easy as possible. You can, for example, handle the shipping yourself or even use Amazon's Fulfillment By Amazon service (FBA).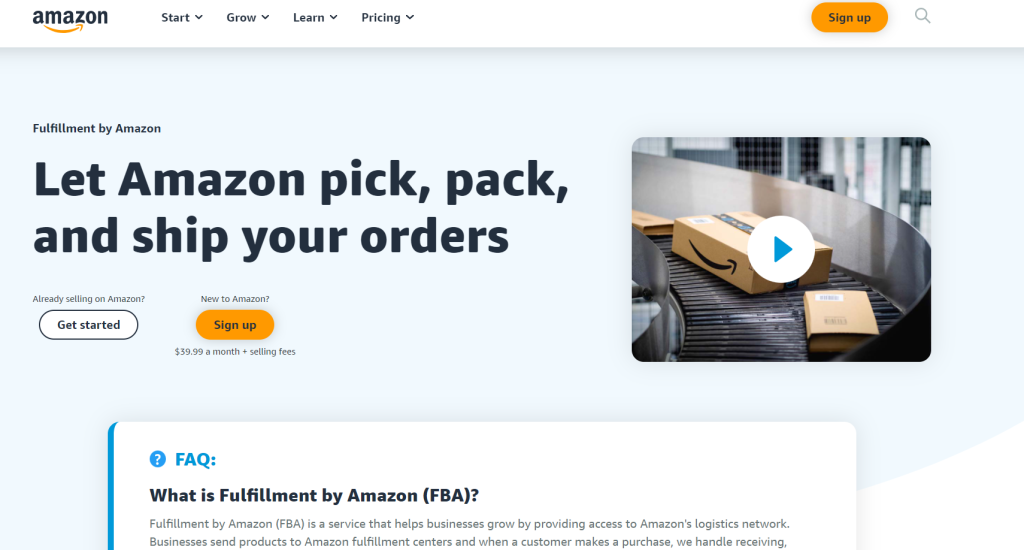 Shopify: Ease Of Use
Shopify was created with the goal of making the establishment of an eCommerce website as simple as possible. It has a simple, clear design, several help pages, and simple navigation. It's a wonderful place to start for individuals, especially beginners, who wish to start an internet business with hardly any experience of its convenience, user-friendliness, and plenty of other design features. Shopify is all about creating your own high-quality website.
Winner: Both
Design & Interface – Amazon vs Shopify
You don't want to lose your customers because of poor design as a store owner. Fortunately, both Shopify and Amazon provide gorgeous designs. Whenever it comes to design versatility, Shopify, on the other hand, gives you more options than Amazon.
Amazon: Design & Interface
However, Amazon doesn't really allow you to customize your storefront that much. All Amazon webpages are formatted in a similar fashion, making it easy to tell which is Amazon's and which is yours. For the product detail page, there are only three options. You may add your own information and images, but you won't be able to change the appearance.
Shopify: Design & Interface
With Shopify, you could choose from 81 different templates for your store, out of which 10 are free and 71 are paid options. You can alter and personalize your theme design to establish a unique brand image. The theme editor on Shopify allows the users to simply alter the template on the front end. A theme preview and a toolbar is also included in the theme editor, which you might use to add and delete items as well as bring alterations to your settings.
Winner: Shopify.
Marketing – Amazon vs Shopify
Shopify and Amazon both have robust marketing capabilities. If you want to establish your personal brand, though, Amazon isn't as good as Shopify.
Amazon: Marketing
If you trade on Amazon, your potential clients will go to Amazon to look for the things they need. Consequently, instead of focusing on Google SEO, you should concentrate on Amazon SEO to rank as high as possible in the search engine results. You must optimize your product information content and search phrases to do so.
Related Reads: Best Amazon Product Research Tools.
Shopify: Marketing
Shopify offers a variety of promotional tools (like Helium 10). In terms of SEO, Shopify provides a minimal set of SEO capabilities that allow users to enhance store-level content for better SERP rankings. You may change the meta tags, add alt text to photos, set up 301 redirects, and generate an auto XML sitemap as well.
Related Reads: Helium 10 Coupon Code
Winner: Shopify.
Customer Support – Amazon vs Shopify
Shopify's customer service is significantly easier to reach than Amazon's, and there are several options to pick from. Although Amazon provides help, it is less versatile than Shopify. The navigation is kind of less user-friendly.
Amazon: Customer Support
Amazon, like Shopify, features a forum where users may post a question and obtain answers from other users as well. This platform also provides a Help Center with a number of frequently asked questions with their answers. If you need help from an Amazon customer service person, they offer various ways of contacting the customer care center such as through email, live chat, or call support which is available 24 × 7.
Shopify: Customer Support
You may get assistance from Shopify specialists and other people on its forum, just like every other eCommerce platform, or look for answers to your problems in Shopify documents as well as video lessons. Another place to search for the most recent updates is the Shopify Changelog. Additionally, the Shopify Help Center also offers live support through emails, live chats, and call support 24 hours a day, seven days a week. Within a few minutes, you will receive a response from the support team.
Winner: Both
Payment options & fees – Amazon vs Shopify
Compared to Amazon, Shopify offers more payment choices. If you use Shopify Pay, you won't have to pay any transaction fees. Amazon's fees vary greatly depending on the individual seller, but they are generally less visible and hence more difficult to budget for.
Amazon Fees & Payment Options
Amazon Pay is the company's primary payment processor. This allows you to accept credit as well as debit cards, but not PayPal. Amazon includes selling fees as well as a monthly subscription for 'Professional Sellers.' Referral fees and delivery fees make up these charges, which vary by category.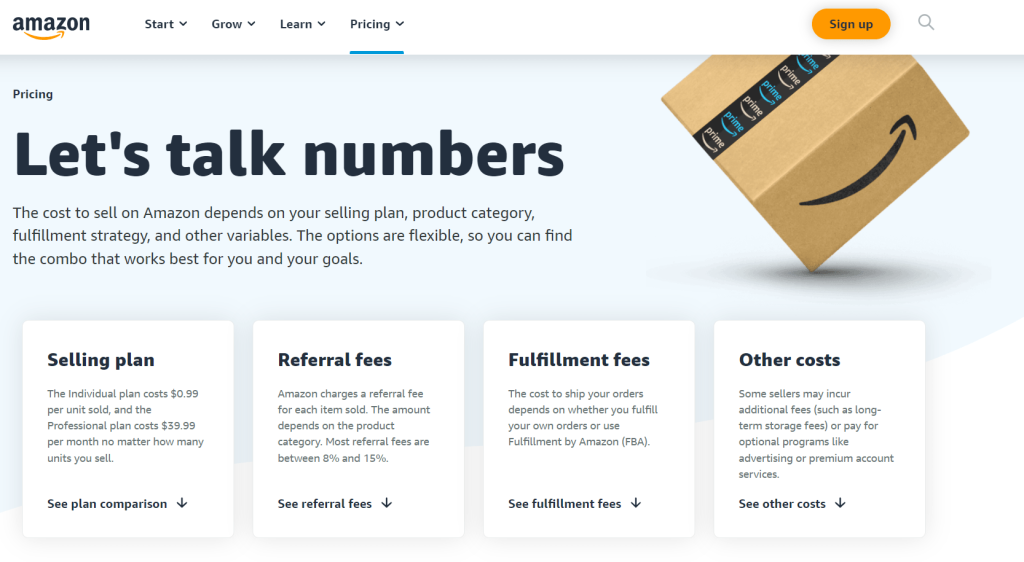 Shopify Fees & Payment Options
Shopify Payments is the company's own payment gateway. You won't be paying any transaction fees if you use this. It also offers more than 100 payment options, like Amazon Pay and PayPal. Based on which one you are using and whose plan you are on, transaction fees range from around 0.5 percent to 2 percent.
Winner: Shopify
Pricing Comparison – Amazon vs Shopify
When analyzing Amazon vs Shopify, it's obvious that fees would play a significant role in your decision.
Amazon Pricing – Amazon vs Shopify
If you use Amazon's fulfillment service, FBA, your platform expenses will naturally be greater – closer to around 35 percent – because you will have to include storage and fulfillment charges as additional expenses. These costs will vary based on the product you choose.
Amazon offers two pricing options:
Individual sellers
Price: 99 cents per item sold
This plan just allows you to add new products to the Amazon catalog and, if desired, use Fulfillment by Amazon. This method, as per Amazon, is appropriate for sellers who are experimenting with their products.
Professional sellers
Price: $39.99 per month
This package gives you access to more advanced features including API connectivity, on-site advertising tools, and the ability to add numerous users
Shopify Pricing – Amazon vs Shopify
Shopify offers a 3 day free trial plan for the following 3 pricing plans:
Basic Shopify
Price: $29 per month
Endless product hosting, online seller tools, staff profiles, 24/7 assistance, social network integrations, coupon codes, SSL certificates, gift vouchers, abandoned cart recovery, and many more features are all available in this plan.
Shopify
Price: $79 per month
This is the most popular Shopify version; it contains all of the Basic capabilities plus up to five locations, five staff accounts, as well as expert reports. There's also fraud detection, POS (Lite) technology, and the ability to sell in many languages.
Shopify Advanced
Price: $299 per month
This package is aimed at larger businesses selling at scale. It allows you to sell in up to five languages, access international domains, access fraud analysis, and even more, all while receiving premium service.
Winner: Shopify
Why Do People Love Amazon? – Amazon vs Shopify
After all, Amazon appears to be a much more convenient solution, with FBA, a ready-made platform, and, obviously, a reputation that exceeds your greatest aspirations. If you choose to register with FBA, the set-up process takes longer because you will need to send your products to a specialized Amazon warehouse.
However, you will be covered not only for storage as well as fulfillment, but also for customer support, returns, and return policies as well, making it absolutely hands-off for you. You can try Amazon Pro for 30 days to get a feel for how to build up your product listings.
Pros – Amazon vs Shopify
Excellent brand exposure (as millions of people use Amazon)
Setup is very simple, and you can begin selling right away.
Tools like FBA are available for you (Fulfilled By Amazon)
Gift cards, discounts, and other benefits are also available
In most situations, shipping expenses are very reasonable.
You don't have to worry about security or updates because they are taken care of for you.
A good back-end framework
Excellent customer service
Cons – Amazon vs Shopify
It's only good for selling physical goods.
It's difficult to establish a good brand image in a competitive market.
There is a high level of competition from other businesses selling the same or similar products.
Why Do People Love Shopify? – Amazon vs Shopify
The pros keep flowing with Shopify! You can grab a free 90 – day trial of the basic plan, and design as well as establish your business, and test it out. Throughout this period, you can use Shopify payments, which are also free, to obtain a better understanding of how a Shopify store can benefit you. You will be able to establish your brand identity as well as expand quickly because this is such a flexible framework with access to all the eCommerce tools and apps.
Pros – Amazon vs Shopify
There are no issues about any upgrades or security (everything is done for you)
A simple method to establish your entire branded store.
Integrations with several other products, like Amazon Premium and free themes to help you make your website stand out.
Possibilities for offline sales with POS integration
Exceptional support from an entire team
For growth, a variety of marketing and SEO solutions are available.
Popular community with a large number of satisfied consumers
Sell services or physical goods.
Cons – Amazon vs Shopify
Transaction fees eat away your profit margins.
Integrations and templates add up to a lot of extra money.
Before you can start selling, you are required to first build your entire store.
Related Read:
Amazon vs Shopify – Which Platform is Better? (2023)
Now that we have reached the end of this analysis, let's talk about which eCommerce website is the best. Both the platforms have significant advantages and disadvantages, as well as pros and downsides.
Amazon
The significant influence you will gain from Amazon's core demographic is a major attraction, and FBA allows you to focus on truly marketing your brand and items. It's also quite simple to set up. However, fees can soon start piling up, and selling specific things may be restricted. However, because pricing swings and competitiveness from other sellers will have a significant impact on your Amazon performance, you will never have complete ownership of your business.
Shopify
Shopify gives you complete control over the design, layout, and labeling of your online marketplace. Everything in your store is under your full command. The fees are also extremely reasonable. However, in order to take full advantage of it, you will have to put in a huge amount of effort and resources. Not only will you have to manage your business, but also your warehousing and fulfillment, customer support, as well as marketing.
OUR FINAL ADVICE on Amazon vs Shopify
We would recommend combining both Amazon and Shopify to have the perfect combination for your business. You can combine Amazon with Shopify to make things much easier for yourself. Link your Amazon selling account and you will be able to access Amazon customers right away. This way, you will be able to take advantage of both the platforms' "exclusive" features.
FAQs – Amazon vs Shopify
Is Amazon Better Than Shopify For Sellers?
Despite the fact that small-scale merchants are better suited to Amazon's Individual plan, Shopify overall provides superior bang for the bucks. It is less expensive than Amazon's Professional plan, and it has more flexible pricing.
Amazon or Shopify get more buyers?
Speaking of customers, Amazon's market place have higher monthly buyers than Shopify.
Why People Go For Shopify Instead Of Amazon?
It is significantly better customisable than Amazon & enables you to build a brand presence.  Shopify  is also lot more effective Dropshipping option. For small enterprises in need of point-of-sale selling, it is a superior choice.
Latest posts by Brian Williams
(see all)